This week is World Breastfeeding Week. As a breastfeeding mum I want to help spread the word about breastfeeding and how important it is for your baby, but we breastfeeding mum's need some help from time to time.
#Dad'sGotThis
Tommee Tippee have launched a campaign for the roles of dads in supporting the breastfeeding mums it's called #Dad'sGotThis. I think this is a fantastic thing to help dad's get involved. I know my husband would have loved to of helped me out in those early breastfeeding days when it was tough.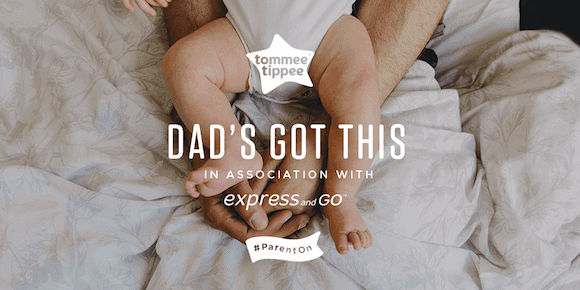 A survey was taken in July 2016 by 132 mums who said that they would breastfeed for longer if they could share responsibilities with Dad. This tells us that mums need the help from dad's.
The #Dad'sGotThis campaign runs from 1st -7th August in association with Tommee Tippees Express and Go system. This system makes it much easier to get the dads involved like bottle fed babies' dad's.
You can find all the information on the Express and Go here.
Express and Go uses a single pouch to EXPRESS, STORE, WARM & FEED breast milk. There's no need to transfer milk at any stage so you'll never lose a precious drop!
The Express and Go system will help dad to bond with baby and give poor mum some rest time. I love this idea and wish I heard of this when my baby was born.
Tommee Tippee have arranged a photo shoot to celebrate World Breastfeeding Week with real-life dad's to capture those feeding moments.
Tommee Tippee will be giving away 10 Express and Go complete starter kits throughout World Breastfeeding Week over on their Facebook Page. 
I would love to hear your thoughts on the Express and Go and would it help your baby's dad get involved?
*I'm a part of the Amazon Affiliate scheme so if you click on the link and buy. I receive a little bit back, so thanks if you do.