I know how hard it can be to conceive. It took us 3 years to get my first daughter. So I'm happy to team up with Proceive to let you know about a new fertility supplement Proceive. You will find more info below on Proceive, plus further down you have the chance to win a months supply for both the woman and man.
About Proceive
Newly launched to the UK market, Proceive is a ground-breaking range of scientifically formulated fertility supplements for couples trying to conceive.
We understand that successful conception is about both of you, which is why our range of supplements focuses on the nutritional needs of both men and women, in equal measure.
Each formulation, for him and for her, contains an active blend of the key amino acids, vitamins, and minerals needed to support the nutritional needs of the body and provide optimum conditions for successful conception.
With deep understanding and expertise in the emotional and physical challenges 1 in 6 couples face on their conception journey, Proceive offers more than just superior nutritional support.
Visit the Proceive website to find easily accessible, expert information before embarking on your conception journey.
The Proceive range consists of five fertility and preconception nutritional supplements:
Proceive Women is designed to support the female reproductive system and provide the nutrients which are scientifically shown to play a vital role in supporting the hormonal system and the development of quality egg cells.
Proceive Women Max contains 33 vitamins and minerals and is designed for women over 35 years of age or women over 18, who have been trying for a baby for 12 months or more.
Proceive Dual Pack for him and her the PROCEIVE WOMAN'S pack and the PROCEIVE MEN'S pack
Proceive Men is designed to support the nutritional demands of the male reproductive system. Key benefits of Proceive Men include healthy sperm support, energy support, antioxidant supports and blood flow support.
Proceive Men Max contains 33 vitamins and minerals for men and is designed for men over 40 or any men over 18 years of age who have been trying for a baby for 12 months or more.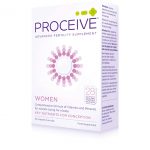 Take Baby Steps. Take Proceive.
Be #ConceptionBodyReady with Proceive, the UK's most advanced fertility supplement
Available from
Proceive is sold via Holland and Barrett but can also be purchased online via the website.
Giveaway
Proceive have kindly let me giveaway a months supply of men's and women's Proceive to one lucky winner. All you have to do is fill in the gleam widget to win. UK entrants only.
GOOD LUCK!
Win a month's supply of the Fertility Supplement Proceive

*Terms and Conditions – There is a 1 month supply of Men's and Women's Proceive to giveaway. The prize is non-transferable and no cash alternative will be offered. The winner will be selected at random via gleam from all valid entries and be notified by Twitter and/or email within 7 days. The winners will have 28 days to respond with a name and UK address before a new winner is selected. Open to all UK entrants aged 18 or over only. Facebook and Twitter are in no way associated with this giveaway. Any personal data given as part of the competition entry is used for this purpose only and will not be shared with third parties. Winner's details will be passed to the PR of Proceive for prize fulfilment.
You can find more info here on my privacy policies 
You can find other competitions over on the competition page.
Thanks for stopping by today.