The choice of your bedroom furniture and its placement are two of the essential steps to achieve an optimised design.
What Do Ergonomics Refer to Regarding Design?
The principles of ergonomics refer to the application of psychological and physiological principles to the design of products.
In other words, they are using furniture to make a space highly functional and more comfortable for its users.
Often described as user-friendly design, ergonomics play an important role in furniture design as it takes into consideration the proportions of the human body in rapport to the use of space.
The Essential Elements of an Ergonomic Bedroom Design
As ergonomics means nothing other than how the furniture is positioned in the room, there are some simple but effective rules so you can achieve the best furniture placement.
Make the Positioning of Your Bed a Priority
An ideal bed position is arguable with the head of the bed pressed against the center of the longest wall in your room, allowing for plenty of room for people to walk around the bed.
Your bed should be positioned at a suitable height to enable you to get on and off quickly without straining the back.
The average height of the bed, measured at the top of your mattress, should be between 16 and 25 inches.
Avoid placing your bed close to a door as this may evoke feelings of insecurity, and try not to position it under a window because of drafts and noises.
Placing your bed parallel to a window is a much better option.
2. Make Sure you Leave Enough Walk Room
Even though the bed is the centerpiece of your bedroom, this shouldn`t overwhelm the room.
In terms of a room`s space using, the Golden Ratio of interior design suggests that 60% of your room should be furniture (including your bed it could be bed in the box), 30% walking space and 10% other accessories. 
Ideally, the width of the aisles on the sides of the bed should not be less than 70-80cm, and you should maintain a clearance of at least 30 inches in front of the bed.
You should have clear passageways around the bed, without any obstruction, so look around and check if you have enough space to move from the bed to the closet quickly or close to the window.
3. Buy Furniture According to Your Bedroom Size
With regards to your furniture sizes, remain true to your overall bedroom dimensions.
So, for a bedroom with an area of 9-10 sqm, a double bed with a size of 140 * 200cm should be enough. In this example, a king size bed or a super king size bed is not appropriate as it won`t leave enough walking space on both sides of the bed.
The height of your bedside tables should be the same as the top of your mattress so you can easily access your necessities.
The depth of a wardrobe should be at least 24 inches. Position the shelves and hangers so as you don`t have to stretch or bend too much to reach out your items.
4. Maintain Easy Access to Doors and Storage
You should place your storage items in a standard size room very carefully to access all objects and avoid cluttering the space easily.
Nothing should stay in the way of the safe opening and closing of the front door and all cabinet doors.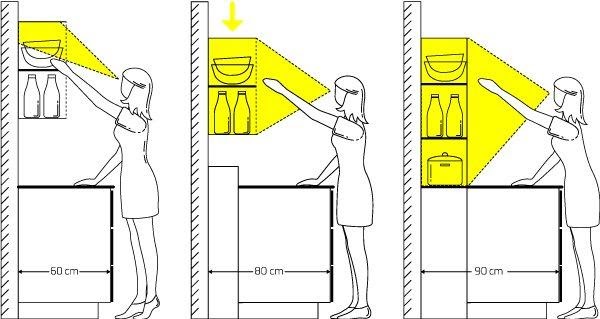 The same rule also applies to all drawers and other types of storage, such as ottoman beds or divan beds with drawers.
Ensure there is enough room for all doors and drawers to open safely without bumping into other items.
5. Make Sure your TV is in the Best Position
Whether we don`t recommend placing your TV in the bedroom, we understand that it can be nice and cosy to watch Netflix & Chill from the comfort of your bed.
The TV needs to be placed at eye level so that the neck and back are not under strain while watching.
The TV should be 30-34 inches from floor level to ensure good posture while watching the TV from the bed.
The most popular TV size for a medium-sized bedroom is between 34 and 42 inches.
6. An Ergonomic Mattress
Mattresses that will create the ideal environment for a comfortable sleep are ergonomic.
The breakthrough of a mattress with ergonomic support solves individual sleeping issues such as back pains or neck strain and offer the support we need to ensure the best night`s sleep. You should also take care of high-quality pillows, and according to your type of sleep choose the right one (for example, it can be a stomach sleeper pillow).
To ensure quality sleep, your bed should have the correct dimensions, a perfect base and the right size of quality mattress made from appropriate material.
Your life and sleep can quickly improve by taking into consideration these ergonomic principles. So now that you have them, you can start designing a bedroom that allows for good posture, less exertion, fewer motions and better heights and reaches.
*This is a collaborative post