This year Father's Day falls on the 18th June, it will be my husband's second one as a dad, but his first without his own father around. So I want to get him special, yet unusual gifts for Father's Day.
I always find the best place to find unusual gifts is online. If you search hard enough you can find little website gems, like UncommonGoods which have a fabulous selection of gifts for men for Father's Day.
Listed below are some of my favourite finds from there.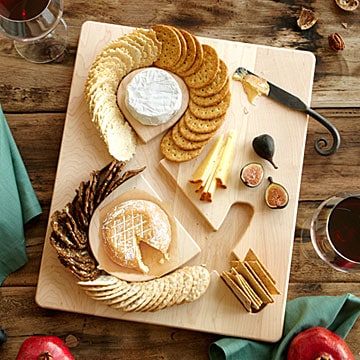 Cheese and Crackers Serving Board.
I love the quirkiness of the board and I'm sure it's a gift my husband would adore. If you want to go that step further, they also do a personalised chopping board for that extra special gift. Click here for personalised gifts.
"A snack spread simply isn't a snack spread without cheese and crackers. Highlight the all-important "&" with this text-friendly cheeseboard, made from North American maple and featuring a teak oil finish. When it's not smartly displaying a hearty feast of brie and rosemary crackers, this handsome design makes an artful addition to your kitchen sideboard or bar tabletop. Made in Dorset, Vermont."